How iView HD IPTV is transforming sports viewing
Among its rich channel offerings, iView HD IPTV shines brightest in the realm of sports content. iView HD IPTV is a top-quality IPTV service focused on sports and boxing streams. It offers over 1,300 live TV channels, including more than 280 high-quality sports channels. The service provides a 3-day IPTV free trial, allowing users to explore its offerings. It boasts a plethora of feature services, including TV guides, Catch Up TV, and IPTV PVR, making it the go-to choice for sports enthusiasts.
One of the key factors in sports content viewing is the quality of live broadcasts. iView HD IPTV ensures a stable streaming experience with no freezing or buffering issues. The system maintains consistent uptime, delivering remarkable speed and consistently providing an exceptional visual and auditory experience. Now, let's further explore its user-friendliness and how it enhances the overall sports content experience.
iView HD IPTV Features
1. Extensive Collection of Over 1300 Live TV Channels

2. Extensive Library Featuring 3000+ VOD Movies and Series

3. Exclusive Premium Channels and Exciting Pay-Per-View (PPV) Events

4. Comprehensive 7-Day TV Guide (EPG) for Effortless Scheduling

5. Enhanced Favorites Feature for Swift Access

6. Convenient 7-Day Catch-Up (Playback) Capability

7. Innovative IPTV Recording with Cloud PVR

8. Enjoy a Complimentary 3-day IPTV Trial to Begin Exploring

9. Immediate Activation for Seamless IPTV Services

10. Accessible 24/7 with Round-the-Clock Customer Support

11. Supported by a Reliable and Robust Server Infrastructure

12. Unaffected by ISP Blocking

13. Availability in Multiple Regions, including the UK, Ireland, Germany, Greece, Australia, and More
Add Your Favorite Channels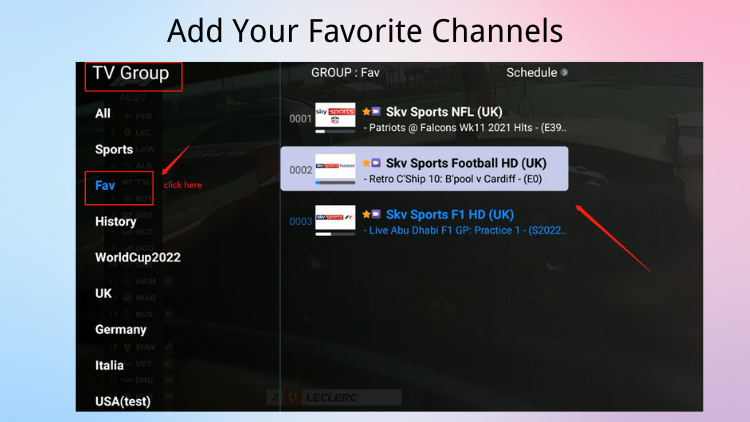 The "Favorites" function empowers users to save specific IPTV channels, local media files, or entire playlists within a specialized list known as "Favorites" for convenient future access. While numerous IPTV services boast extensive channel lineups, Iview HD focuses on providing a curated selection of over 1,000 channels, primarily from regions like Europe, the UK, Ireland, Australia, Germany, Greece, and more. With such a vast array of channels, finding your preferred ones swiftly can be challenging, making the "Favorites" feature a pivotal tool in simplifying your viewing experience.
Time Shift Function: catch-up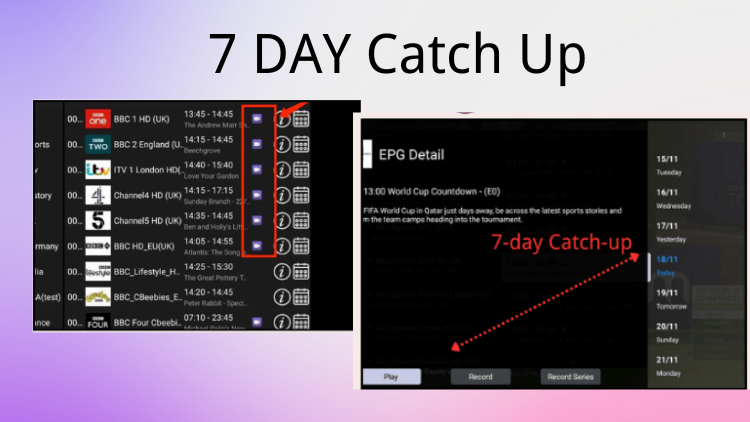 The iView HD Plus package comes with a 7-day Catch-Up feature. This playback functionality allows you to watch any TV show or sports event that you might have missed in the past.
Imagine missing a crucial sports match due to scheduling conflicts. With Catch-Up, you can prepare some popcorn and beer and relish the exciting moments of the game. This innovative service allows sports enthusiasts to turn back time and view events from the past week. No more worrying about waking up at odd hours to catch your favorite game; this feature provides global fans with the flexibility to enjoy their beloved matches, making it a game-changer for sports enthusiasts worldwide.
EPG Styles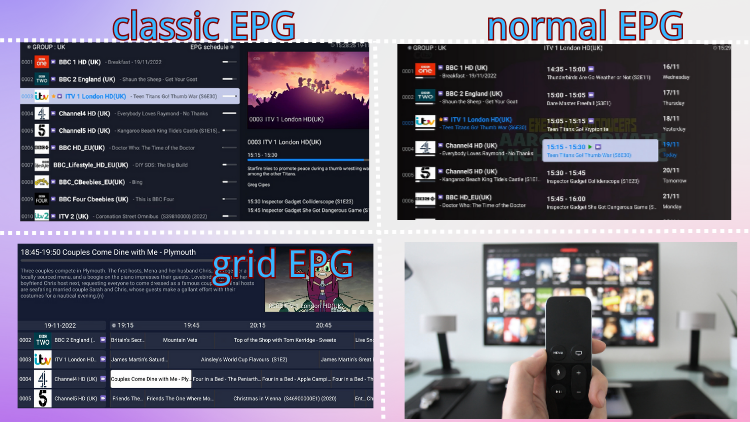 iView HD offers three different Electronic Program Guide (EPG) options: Standard EPG, Classic EPG, and Grid EPG. These EPGs cover a wide range of channels, ensuring you have access to detailed scheduling information. It's worth noting that many other providers often charge extra for EPG access, but iView HD includes it as part of their service, adding significant value for users.
This versatility in EPG styles is a standout feature, allowing you to customize your viewing experience to your specific taste. Whether you prefer a clean and straightforward timetable view or a more traditional layout, iView HD caters to your needs, enhancing your overall enjoyment of the service.
IPTV Cloud PVR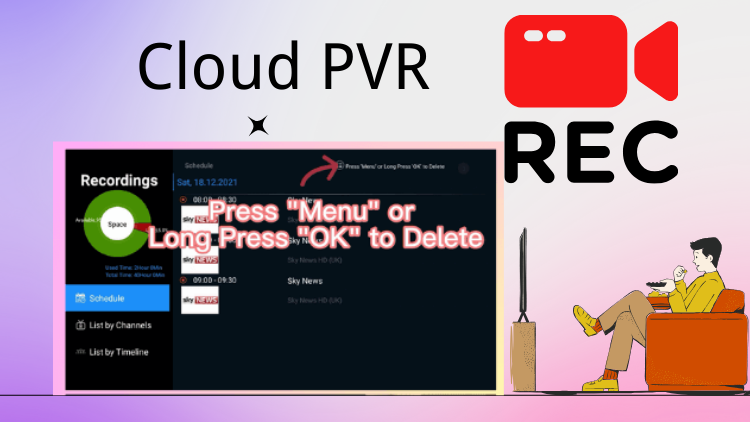 iView HD now offers an appealing cloud recording feature that empowers you to save up to 40 hours of your beloved programs within the cloud server. These recorded shows are readily accessible, giving you the freedom to enjoy them at your convenience. Should you encounter storage limitations, fret not; you can effortlessly delete older content to make room for the latest program offerings, ensuring you remain in sync with your preferred shows without any disruptions.
iView HD IPTV's reach in different countries
For those seeking a taste of cross-border culture, diverse international channels are essential. iView HD conveniently caters to this need, offering a wide range of frequently updated content from over 26 countries worldwide. This includes sports events, football, boxing, entertainment, movies, and more. Accessible from anywhere with an internet connection, it provides users with convenient and flexible viewing options. With iView HD, you can unlock a wealth of content from various sources and switch between channels in different languages with ease.
In-depth coverage of Sports Events
iView HD offers a diverse range of channels, organized by country and covering various genres, including news, entertainment, sports, PPV, and more. These channels originate from countries such as the United Kingdom, Italy, Australia, the Netherlands, Germany, Greece, and Spain, among others.
In addition, iView HD boasts a video-on-demand (VOD) feature, allowing users to access a wide selection of the latest and most popular movies, and TV shows, as well as boxing and mixed martial arts content, all within a single platform.
With an extensive lineup of over 1,000 live channels, iView HD stands as a comprehensive IPTV service tailored for sports enthusiasts.
The free trial of iView HD
Exploring a service before committing to it is a crucial step in ensuring it aligns with your entertainment preferences. iView HD IPTV offers a free trial version that provides users with an excellent opportunity to delve into its features and content offerings. With a 3-day free iptv trial, you can enjoy complimentary access to live sports, movies, series, news, and more.
Throughout the trial duration, users can explore a wide array of channels, on-demand content, and comprehensive sports coverage to determine if it suits their viewing preferences. Feedback from users who have experienced the free trial has been overwhelmingly positive, with many commending the extensive channel selection, catch-up features, and user-friendly interface. This firsthand encounter empowers individuals to make an informed decision regarding their subscription to iView HD IPTV.
Iview HD IPTV Compatible Devices
IPTV iView HD is an Android-based subscription service, offering users a tailored official Android app to access their platform. It extends compatibility to a wide range of Android devices, including:
| | | |
| --- | --- | --- |
| Android devices | TV Box | Fire TV / Fire Stick |
| Samsung Phone | Formuler Android OTT | NVIDIA SHIELD Box / Shield TV |
| Smart TV (Android OS) | Android Tablet | Enimga2 DVB Box |
Reading:
iView HD IPTV Subscription Options
iView HD IPTV offers an enticing range of iptv subscription plans designed to cater to a diverse audience. They provide options like Standard, Premium, and Family plans to meet various user needs. Now, let's delve into the standout iView HD packages.
The iView HD package is a real winner, boasting an extensive array of sports coverage with over 200 channels and access to 7-day cloud PVR recording. It's a sports enthusiast's paradise, covering live football, boxing, mixed martial arts, golf, baseball, tennis, hockey, racing, and more.
When it comes to families, iView HD IPTV's Family package is incredibly convenient. It allows multiple devices to share a single subscription, and what's even cooler is that it permits up to four devices to connect simultaneously. This means you can save up to 60% on subscription costs.
No matter which plan I choose, iView HD IPTV makes it easy for me to enjoy high-quality IPTV content. It's an exciting way to entertain!
Iview HD Blue
| | | |
| --- | --- | --- |
| Subscription Period | features | iview HD Blue |
| 1 month | - $19.99 for 1 month with 1300+ Live Channels,3000+VOD, EPG, and one connection | $19.99 |
| 3 months | - $49.99 for 3 month with 1300+ Live Channels,3000+VOD, EPG, and one connection | $49.99 |
| 6 months | - $79.99 for 6 month with 1300+ Live Channels,3000+VOD, EPG, and one connection | $79.99 |
| 12 months | - $139.99 for 12 month with 1300+ Live Channels,3000+VOD, EPG, and one connection | $139.99 |
Iview HD Plus Red
| | | |
| --- | --- | --- |
| Subscription Period | features | iview HD Plus red |
| 1 month | - $32.99 for 1 month with 1300+ Live Channels, EPG, 3000+VOD, 7Days Catch-up,PVR Functionand one connection | $32.99 |
| 3 months | - $79.99 for 3 month with 1300+ Live Channels, EPG, 3000+VOD, 7Days Catch-up,PVR Functionand one connection | $79.99 |
| 6 months | - $129.99 for 6 month with 1300+ Live Channels, EPG, 3000+VOD, 7Days Catch-up,PVR Functionand one connection | $129.99 |
| 12 months | - $199.99 for 12 month with 1300+ Live Channels, EPG, 3000+VOD, 7Days Catch-up,PVR Functionand one connection | $199.99 |
Iview HD family package
| | | |
| --- | --- | --- |
| IPTV family package | features | Price |
| #1/12 month | $285 for Family package#1+1×Sub 12 Months with 1300+ Live Channels, EPG, VOD, and 2 connections. | $285.00 |
| #2/12 months | $370 for Family package#2+1×Plus 12 Months+2×Sub 12 Months with 1300+ Live Channels, EPG, VOD, and 3 connections. | $370.00 |
| #3/12 months | $450 for Family package#3+1×Plus 12 Months+3×Sub 12 Months with 1300+ Live Channels, EPG, VOD, and 4 connections. | $450.00 |
| #4/12 months | $230 for Family package#4+1×Standard 12 Months+1×Sub 12 Months with 1300+ Live Channels, EPG, VOD, and 2 connections. | $230.00 |
Get a free iviewTV activation code
Because iview IPTV offers a free trial, you can get an activation code for the service for free in the following ways
Visit the iviewTV website(https://www.bestiviewhdiptv.com/).

Click the Register button in the upper right corner to register for a free account. (Remember to click on the activation email after filling out the information to complete your registration)

Visit the iviewTV website again and select the free trial of iview or iviewTV Plus.

After your order is submitted, wait for the system to send you an IPTV activation code.
Where to find the iviewTV activation code
Once you have paid for your order, the iviewTV website will send you the IPTV activation code in two ways: by email and through the website account center. (The whole process is automatic, with no manual processing, and the waiting time is usually less than two minutes)
Method 1
Go to the email address you filled in when you submitted your order.

Check your inbox for emails from iviewTV.

If you don't find any emails from iviewTV in your inbox, please check your junk mailbox

If you do not receive an email from iviewTV within 10 minutes, please contact [email protected]
Method 2
Visit the iviewTV website.

Click the Login button in the upper right corner to log in to your account.

Go to My Account -My Order -View Order -SKU/IPTV Code (that is your subscription code)

How to install iView HD IPTV on Android TV BOX?
1. Get ready to kick off the action – Unify that TV connects to your Android box and make sure it's hooked up to the internet. It's like getting the stadium lights shining.

2. Now, if you want to bring the iView HD app to your Android TV, you've got to make a power move. First up, enable those unknown sources.

3. Head to the control center – hit up "Settings." Then, it's like running the play – go to "Security & Restrictions." Get ready to switch on the "Unknown Sources." That's like giving the green light to the app action.

4. Alright, here's a pro move. Open up your PC browser and punch in the iView HD Android box app. Now, it's like making a pass – insert that USB drive into your PC. Download the APK file right onto the USB drive. It's like getting your game plan ready.

5. Transfer complete! Eject that USB drive and plug it into the HDMI port on your Android TV. It's like stepping onto the field with all the right gear.

6. Time for a quick huddle: – wait a bit as the iView HD app installs on your Android TV. It's like gearing up before the big game.

7. Touchdown! Now, the iView HD app is all set up on your Android TV. You're ready to dive into some top-tier sports streaming action! Let the games begin!
How to install Nvidia Shield?
1. I initiated the process by accessing the Google Play Store on my Nvidia Shield device. I performed a search for the "Downloader" app and initiated its installation once it appeared in the search results.


2. Afterward, I navigated to the Settings menu on my Nvidia Shield and selected "Device Preferences."


3. Within the "Device Preferences" section, I opted for "Security & Restrictions."


4. I proceeded to locate the "Unknown sources" option and provided the necessary permission to the "Downloader" app.


5. Additionally, I ensured that the "Verify apps" feature was disabled.




6. Subsequently, I launched the Downloader app and entered the download link for the iView HD IPTV APK into the designated URL field. Following this, I simply clicked on the "Go" button.


7. I diligently followed the on-screen instructions that appeared, successfully concluding the download and installation process for the iView HD app.

8. Start the iView HD application screen and enter the IPTV activation code.

9. Now you can enjoy premium live sports on your Nvidia Shield.
How to install iView HD IPTV on an Android phone?
By default, Android devices are set to only allow app installations from the Google Play Store. However, in order to install apps from other sources, such as the iView HD IPTV app, you need to enable Unknown Sources in your device's settings. Here's how you can do it:
Step1:Enable Unknown Sources on an Android phone:
1. Open the "Settings" app and select the "Apps & Notifications" tab on your Android Phone.


2. Select the "Advanced" section, then choose "Special app access."


3. Next, go to "Install unknown apps," then select the desired app. Finally, toggle the switch to allow installation from unknown sources, you can now install apps from sources other than the Google Play Store.

Step2: Install IPTV iView HD on Android Phone
iView HD IPTV offers three different IPTV apps – iView HD App, iView HD Plus App, and Sub-Device App – depending on your subscription package. Here's how to install the iView HD app on your Android phone:
1. Open your phone's web browser.

2. Type in the download link for the iView HD App that corresponds to your subscription package.

3. Once you have the correct download link, tap on it to start downloading.

4. You may receive a warning message that the app may harm your device, but don't worry – iView HD IPTV is a safe and legitimate app Tap on "OK" or "Install" to continue.

5. Once the download is complete, tap "Install" to start the installation process. You may need to grant permission to your phone to install apps from unknown sources.

6. Follow the on-screen instructions to complete the installation process.

7. Once the installation is complete, you can open the iView HD IPTV app and log in using your subscription code.
That's it! You should now be able to enjoy high-quality live TV and on-demand content on your Android phone with iView HD IPTV.
How to install Iview HD on Firestick?
iView HD has its own standalone APK and requires obtaining its dedicated application. However, there's a unique aspect to this – it cannot be accessed through the Google App Store or Amazon Store. Instead, I had to use the Download App to acquire the iView application. Let's now delve into how to download the iView TV application.
1. Sign up for an iview TV IPTV Subscription plan.

2. Connect the Firestick device to the HDMI port of the TV and start the Firestick.


3. Move to the Settings on the Fire TV home screen.


4. Please scroll down and select My Fire TV(or device) in the Settings.


5. Choose the Developer Options.


6. Click Install unknown apps and select Downloader app.


7. Tap ON to turn the Firestick to install the apps from an unknown source.


8. Launch Downloader. Place your cursor in the URL box and click the OK button on your remote to open the keyboard.


9. Go to the Downloader and type the iview TV App URL.


10. Wait for the file to download.


11. Click Install, and wait for the installation to complete.

12. Then open the app.

13. Wait for a few seconds as the IPTV app starts to load on your screen.


14. That's it, Now input your IPTV activation code and click OK. You will get it when you purchase your subscription.
How to use the IviewTV Activation Code
1. Install the appropriate version of Apk (iviewTV Apk or iviewTV Plus Apk) according to the package you subscribe to.

2. Open the iviewTV APP, the activation screen will be displayed, please fill in your IPTV activation code in the Active code field.


3. If you do not see the activation screen, Click the user icon in the upper left corner of the app's main screen and fill in your activation code.

Conclusion
In conclusion, delving into the world of iViewHD IPTV has been an enlightening journey. This comprehensive review has shed light on the multitude of offerings that this service brings to the table. From its extensive channel lineup to innovative features like Catch-Up and Cloud PVR, iViewHD IPTV is undoubtedly a game-changer in the world of IPTV services.
Whether you're a sports enthusiast, a movie buff, or a lover of international content, iViewHD IPTV has something for everyone. Its user-friendly interface, diverse subscription options, and cost-effective family plans make it a versatile choice for viewers of all kinds.
As the entertainment landscape continues to evolve, iViewHD IPTV stands at the forefront, redefining how we consume content. So, if you're ready to embark on a new era of television entertainment, consider giving iViewHD IPTV a try. With its free trial offering, you can explore its features and discover a world of entertainment that caters to your unique preferences.
Don't miss out on the opportunity to transform your viewing experience. Dive into iViewHD IPTV and unlock a world of entertainment like never before.
Read the last ten articles before and after this one