Time4TV is a well-known platform that provides free live TV streaming services to users worldwide. Offering a wide range of channels including news, sports, entertainment, international content, and religion, Time4TV ensures a diverse selection of viewing options. Whether you're looking for the latest news updates, sports events, or international channels, Time4TV has it all.
In this article, we will delve into the features, channel lineup, user experience, and top alternatives to Time4TV, taking you on an exploration of the world of free live TV streaming. Join us as we embark on a journey to uncover the wonders of Time4TV!
What is time4tv?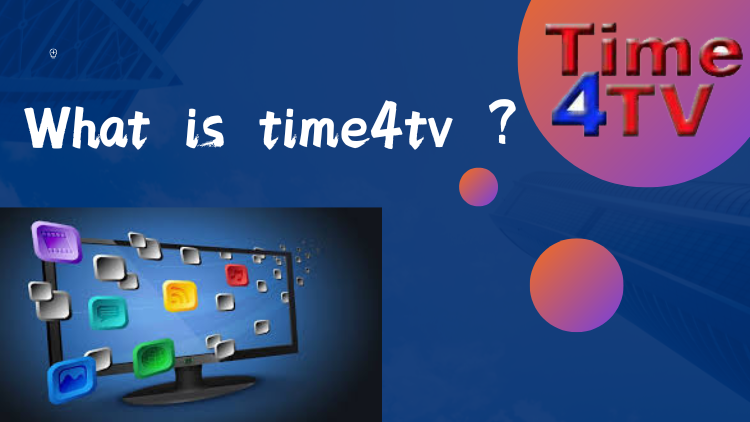 Time4TV is a highly popular website that offers a vast collection of free live TV channels across various categories. From news and sports to entertainment, international channels, and even religious programming, Time4TV covers a wide range of interests. It provides viewers with access to hundreds of channels, ensuring there is something for everyone to enjoy.
As a globally renowned IPTV website, Time 4 TV has gained immense popularity, particularly in the US and the UK. Its strength lies in its extensive selection of news and sports channels, including options that cater to European countries.
In addition to that, Time 4 TV offers an impressive lineup of entertainment and infotainment channels, delivering a comprehensive and immersive entertainment experience. In the following sections, we will take a closer look at the specific channels available on the platform, exploring their genres and the content they offer
related:How to Watch Pay-Per-View (PPV) Events for Free
Time4TV Plans & Pricing
Time 4 TV is a free IPTV streaming website. It doesn't require you to pay any free – one-time or subscription.
If you want to watch news, sports, or entertainment content and don't want to shell out $80-$100 every month, Time 4 TV is a website you totally should check out. It has something for everyone.
Advantages of Time4TV
1.Hundreds of free channels in various categories

2.Compatible with any internet-connected device

3.Works great with a VPN

4.Popular news channels

5.Entertainment channels

6.Sports channels

7.100% free to watch

8.Electronic Program Guide (EPG)

9.No registration required

10.Settings configuration
How to Watch Time4TV on Firestick/Fire TV
You can access Time4TV on various internet-connected devices, including Windows PCs, Macs, tablets, and mobile devices. To watch Time4TV, all you need to do is open any web browser and visit the provided URL.
Below you will find instructions for watching the Time4TV streaming site on the Amazon Fire TV Stick Lite. These same steps will work on any Fire TV or Android device.
1.Hover over Find within the main menu and click Search.

2.Type in "Silk Browser." Click the first option that appears.

3.Click the Amazon Silk Browser under Apps & Games.

4.Click Download.

5.Wait a few seconds for the Silk Browser to install then click Open.

6.Launch the Silk Browser and click the search box.

7.Enter the following URL –

https://time4tv.stream

and click Go.

8.That's it! You can now watch hundreds of free channels using Time4TV on your Firestick/Fire TV
related:
Is Time4TV Legal?
IPTV Wire does not have the means to verify the licensing status of unverified live TV websites.
If a streaming website is found to be illegal, we promptly inform our users and update our reports on the website accordingly.
In summary, the end-user holds the responsibility for the content they access through free IPTV apps and websites.
What is the best alternative to time4tv
Top-notch free alternatives
1.Rojadirecta

2.Feed2All

3.VipBoxTV

4.BatmanStream

5.StreamHunter

6.CricFree

7.SportLemon

8.Stopstream

9.LiveTV

10.StrikeOut

11.FirstRowSport

12.Myp2p

13.BCE TV

14.Stream2watch

15.Redstream
Rojadirecta
If you're in search of the ultimate alternative to FirstRowSports, look no further than Rojadirecta. This widely acclaimed sports streaming website grants free access to a multitude of sports events. Rojadirecta operates as a real-time directory, meticulously organizing all the top games and providing comprehensive details on upcoming live sports broadcasts. Additionally, you can also explore VIPLeague for more options.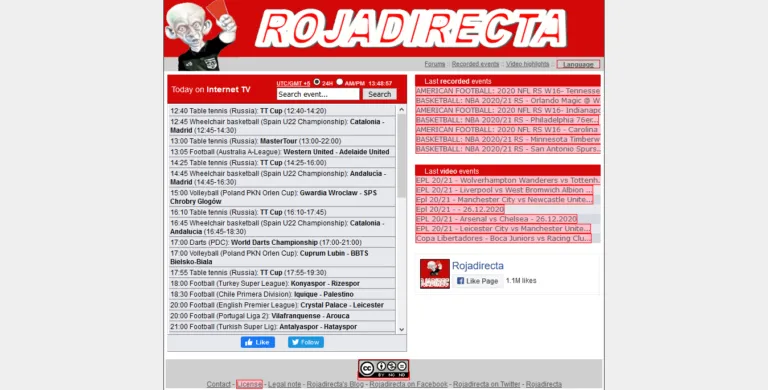 Rojadirecta offers multiple links to the same live event, allowing you to choose from various video qualities according to your preferences. With its extensive coverage and diverse video options, Rojadirecta stands as the premier destination for sports enthusiasts seeking high-quality live-streaming experiences.
Feed2All
Feed2All is an outstanding alternative to FirstRowSports and an excellent platform for watching live sports anytime, anywhere. It offers free access to all sports matches, catering to the interests of sports enthusiasts. Feed2All features popular sports categories such as Ice Hockey, Basketball, Fights, and more. It covers major live football matches and other sports events. On the homepage, you will find a well-organized display of ongoing games with multiple streaming links to choose from.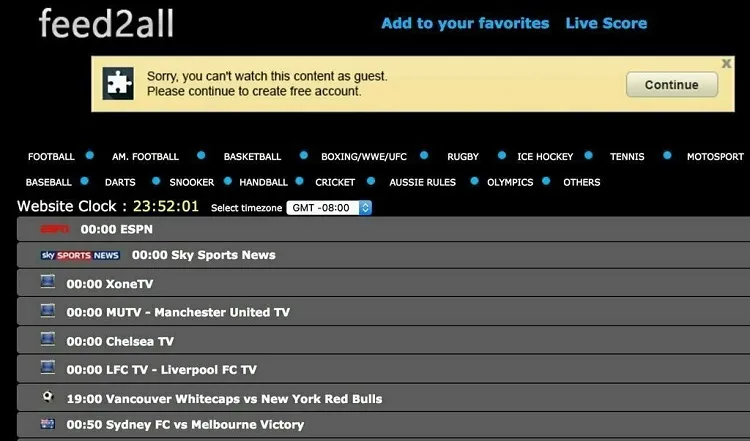 Additionally, the site boasts a clean user interface with a default dark theme, providing a user-friendly browsing experience.
VipBoxTV
VipBoxTV is another highly-rated sports streaming site that offers free live sports broadcasts. It features a variety of sports streaming channels, making it an excellent source for sports fans. The site's clean and user-friendly interface allows for easy navigation and finding your preferred sports events. VipBoxTV primarily focuses on football and scooter matches, but you can also find coverage of cricket, basketball, and more.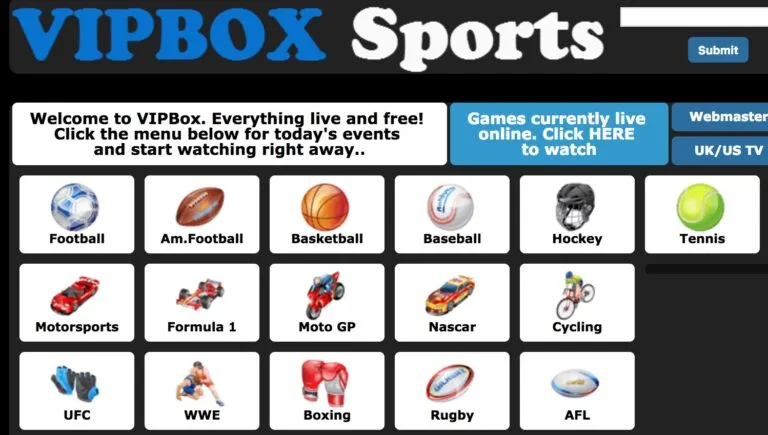 The straightforward and tidy UI enables you to quickly access all the live sports events worldwide with just one simple click.
BatmanStream
BatmanStream is another well-known free sports streaming website that offers a fantastic user interface (UI) and covers a wide range of sports including football, basketball, baseball, handball, and more. It allows users to search for their favorite sports events and stream them live for free. Similar to FirstRowSport, BatmanStream features a simple UI that is easy to navigate.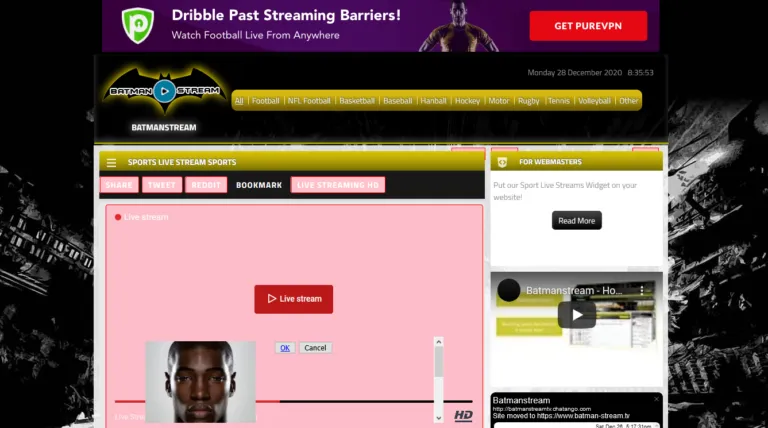 The site provides high-definition (HD) quality broadcasts, making it a worthwhile platform to fully enjoy and stream your favorite live sports events for free.
StreamHunter
StreamHunter is a highly versatile live streaming service and an excellent alternative for watching your favorite live events with exceptional quality. It offers a range of advanced features to enhance your streaming experience. In addition to being a live streaming service, StreamHunter also serves as a sports news website, providing coverage of sports news from around the world. It covers various sports categories including Boxing, Soccer, Football, Cricket, Handball, and more.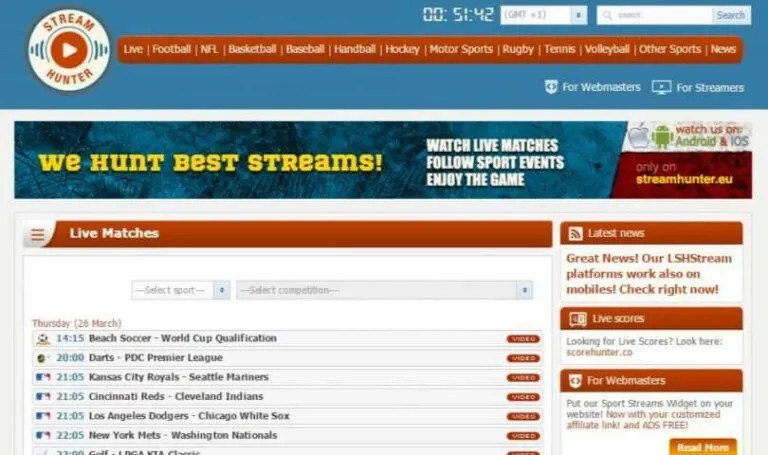 StreamHunter offers the same key features as the aforementioned sports streaming sites, such as a user-friendly interface, sports news coverage, a search box, and no registration requirement.
CricFree
CricFree offers a wide range of online TV channels, most of which feature sports events. You can enjoy free live streaming of sports events anytime and from anywhere in the world. While CricFree primarily focuses on cricket and provides coverage of various cricket competitions, the website also offers a diverse selection of other sports events categorized into more than 12 different categories. In addition, to live streaming, CricFree provides sports news, interviews, previous matches, highlight shows, and more.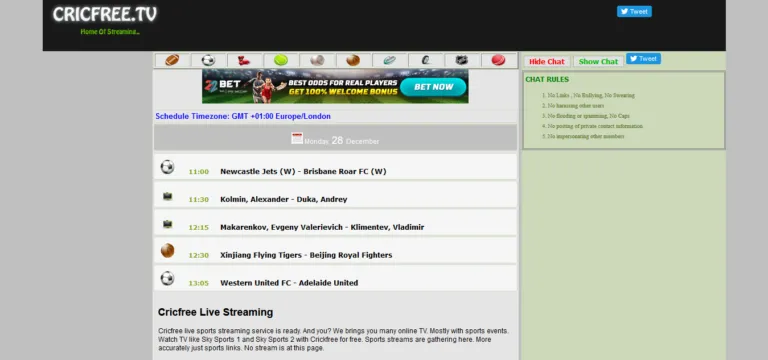 CricFree features a simple and user-friendly interface, making it easy to navigate through the website. With its comprehensive coverage and user-friendly design, CricFree stands as one of the top sports streaming services that cater to all your sporting needs.
SportLemon
The website offers all types of sports to watch then for free, which makes it one of the very best. SportsLemon supplies numerous links to the exact same occasion but also offers its software application. You may discover lots of Pop-Up ads, but the broadcast is excellent with SportLemon TV.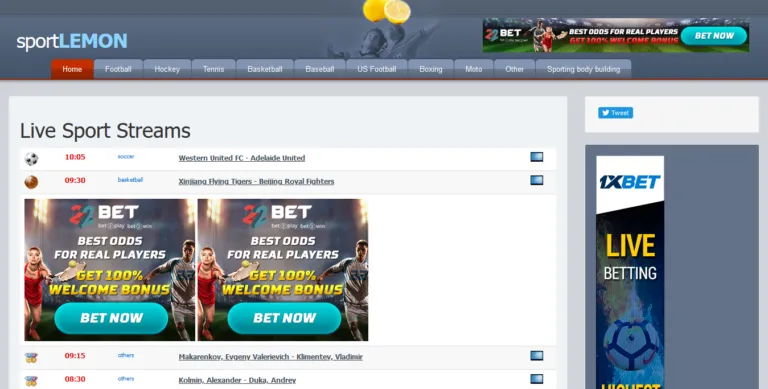 You will discover all the live stream occasions at the top-right tab of every window, and likewise, you may navigate through the different categories of sports quickly.
Stopstream
Stopstream Is called among the very best sports streaming platforms cos is totally available wherever & whenever, and it hosts many sports channels & sports events. Third-party websites provide streams, but discovering any link to your live sports e within the side vent is uncomplicated. Likewise, Stopstream offers a lot more live sports events than FirstRowSports can use.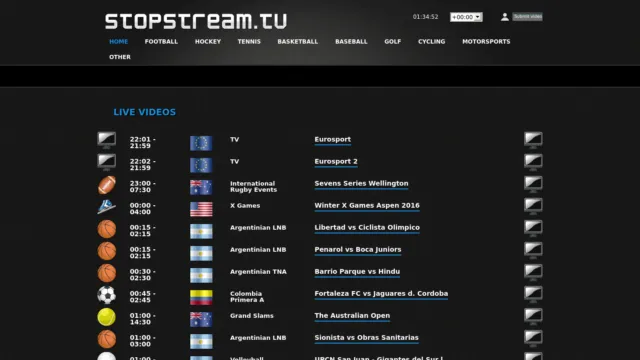 It comes with a black style and a clean and straightforward user interface that you will love. Stopstream has actually also collaborated with USA Goals, Drakulastream, FromHot, and so on.
LiveTV
Yet another great FirstRowSports alternative is LiveTV. The site has a great deal of traffic cos that live streaming is provided in lots of languages. LiveTV is really functional with a great style and offers a large range of live sports events.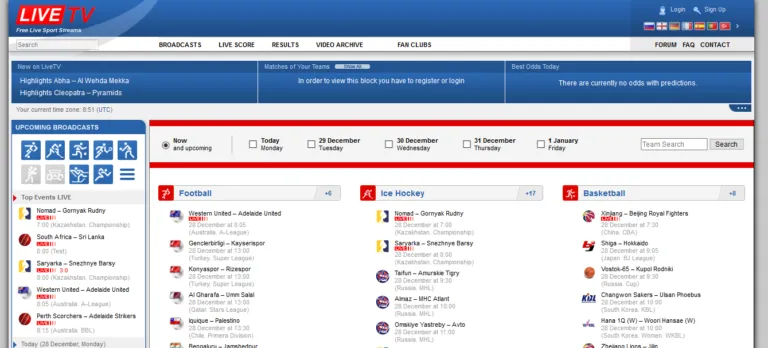 LiveTV is a Russian domain that uses totally free live sports streaming events. Besides that, the initial website domain is in Russian, and LiveTV is likewise readily available in German, French, and English. You can pick your main language at the Top-Right of the page.
StrikeOut
All sports fans will enjoy going to StrikeOut cos is the very best source to quickly enjoy all sports games with various gadgets like mobile, tablet, laptop computer, PC, and so on. StrikeOut has an efficient style and focuses on providing the exact same quality streams. You can select to stream different live occasions from cricket, baseball, football, basketball, and much more.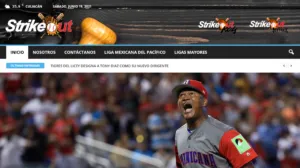 Strikeout provides similar functions, aesthetics, and game databases. By clicking on the noted sports, you can see the upcoming games with the available streaming links.
FirstRowSports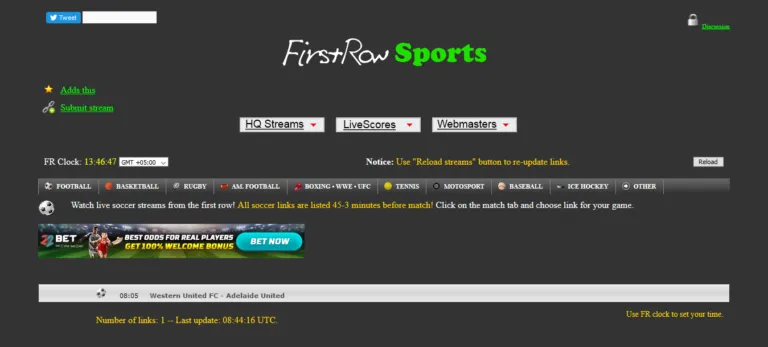 At FirstRowSports, you can see Live Football online with P2P4U. P2P4U provides you with many live football matches. FirstRow Sports is mainly committed to football fans, however, you will find additional sports as properly. Honest at the homepage is showcased the streams to managing sports courses that are totally free to view. You can experience streaming sports even from your Mobile phone, and you only need to utilize the Skyfire web internet browser to delight in the smooth streaming of your favorite live event. There might be some advertisements during the streaming, but it's not a big deal as they will be closed immediately, or you can select to close them by hand. Also, check another post like FirstRowSports.
Myp2p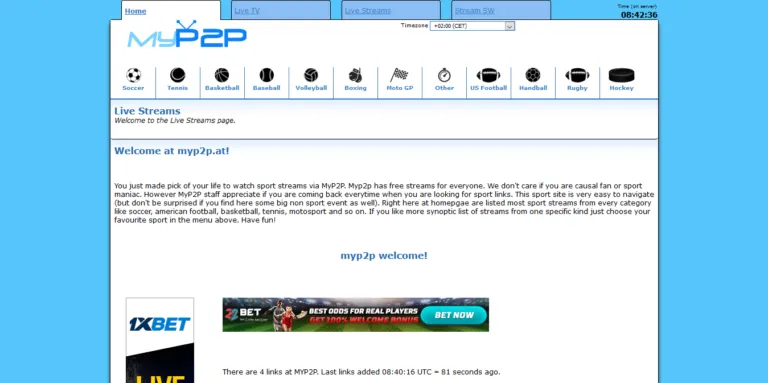 Myp2p is among the best, and well know live-streaming alternatives like FirstRow. All sports events are available here. Everyone can quickly see a live sports match totally free on Myp2p. MyP2P.EU streams live sports for free! It has a couple of ads however offers a top-quality stream to delight in. The user interface is clean and appealing, and very smooth. You will likewise find other sports classifications to stream like Tennis, Baseball, Football, Soccer, Boxing, MotoGP, etc., and each live event has several links to select from.
BCE TV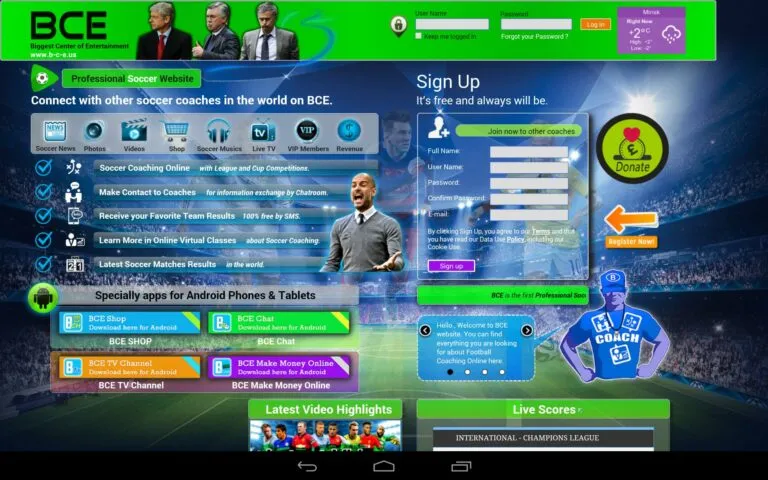 BCE TV Channels, are definitely among the very best locations to See Soccer/Football live online. It offers all European Leagues, and international matches live. BCE TELEVISION Channels also supply its one app, the BCE Soccer app, which you can download and view live sports on your Smartphone. Inside the application, you will also have Soccer News, Newest Video Emphasizes, Live Scores, Photos, and A lot more.
Stream2watch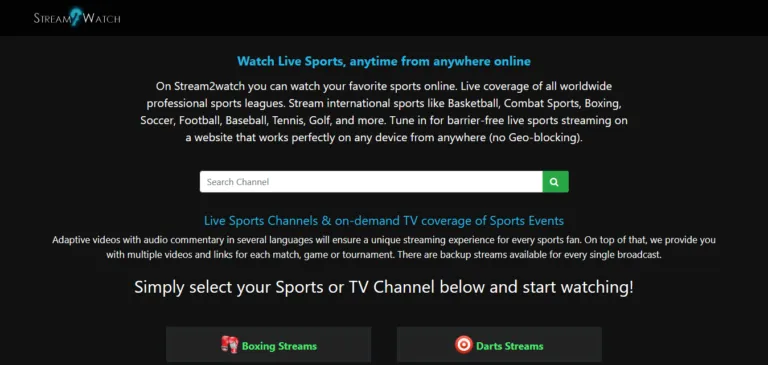 Suppose you are searching for the top sports streaming websites like FirstRowSports, then look no more. At Stream2Watch, sports enthusiasts can easily watch any match free of charge. All huge sports are covered by Stream2Watch.me, also some mix of lower-profile sports. Also check Buffstreams alternatives The Stream2Watch interface (UI) is impressive, making this website appearance extremely great compared to others. You can stream various things from match streams, and occasions to competitions, and much more. Stream2Watch can be utilized on any gadget with no concerns.
Redstream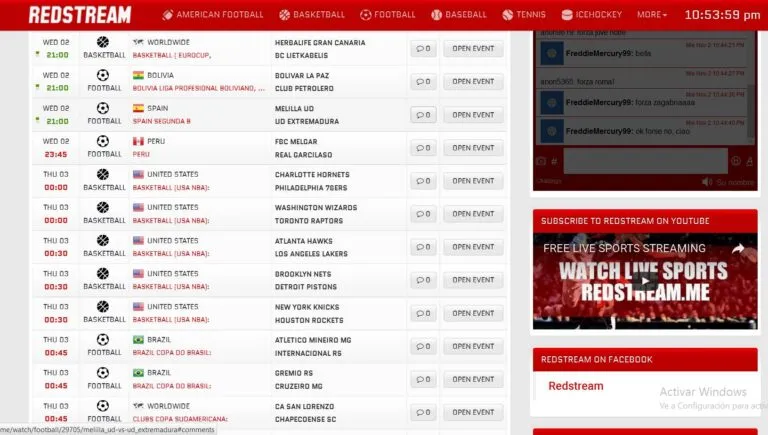 Redstream is the very best option for you for online sports streaming sites absolutely totally free. Rojadirecta streams are likewise offered here! Something to be thought about is that live occasions are not transmitted on TELEVISION for free; you need to spend for premium cable tv channels.
RedstreamSport takes the links from other streaming services and supplies them to its website; its routine users are enabled to send links to any live event. There are multiple links for the very same scenarios, and you will find numerous free streaming channels to watch all live TELEVISION Sports.
iview tip:After exploring free streaming websites, it is crucial to note that they come with certain drawbacks that may result in an unfavorable viewing experience. Free streaming platforms often have unavoidable advertisements, uncertain security levels, unstable signals, and low-quality viewing. Looking for to a suitable IPTV subscription service might be a wise choice, as it eliminates concerns about legal issues and ensures stable video quality.
related:How to Watch Pay-Per-View (PPV) Events for Free
Paid services:
After exploring the aforementioned free streaming websites, it's important to be aware of their drawbacks. Advertisements are inevitable, and the level of security is uncertain. If you require a stable and secure streaming service to watch high-quality sports events, we have compiled an IPTV subscription table below. It offers a pay-per-view option, ensuring a secure and stable viewing experience with superior quality.
Service

IPTV Fr

ee Trial

Price
Content
Vidgo
No
$39.99 per month
This live TV service offers over 95 live channels and major sports packages that users can view from anywhere in the world.
This includes access to NFL Redzone, ESPN, Bein Sports, ABC, FOX Sports, TLC, Discovery, and much more!
ESPN+
No
9.99 per month. Or $99.99/year
ESPN+ offers the best leagues and most consistent live sporting events. Includes exclusive PPV events, boxing, fight night, UFC, and NHL.

IVIEW IPTV

3-Days free trial
US $19.99 a month

IVIEW IP

TV

channels cover many countries/regions around the world. 1300+ live channels, 3000+ VOD of the latest and popular movies including boxing streams sports events, news, cartoons, movies, and serials.
Showtime
30-day free trial
$10.99/month
Showtime also offers some sports-related content, including boxing events. You can watch some famous boxing matches and boxing-related shows on Showtime. There are also originals, movies, and documentaries.
Philo
7-Day Free Trial
$19.99/month
Philo is an excellent option for individuals who appreciate entertainment and news channels, making it an essential inclusion on any list of top legal IPTV providers.
For a monthly cost of $19.99, subscribers gain access to over 60 channels and unlimited DVR capabilities.
Philo offers a 7-day free trial for new users, a highly desirable feature to consider when selecting a live TV service.
FAQ
How to access Time 4 TV?
If you're from the US or the UK, you will be able to access the website without any restrictions.
What Channels does Time4TV have?
Time4TV has hundreds of channels in several categories including news, entertainment, international, religion, and more.
What Devices can this IPTV Website be used on?
This IPTV website is available for use on any device that can connect to the internet. This includes the Amazon Firestick/Fire TV, Android devices, Windows PC, Mac, phones, tablets, and more.
Is Time4TV free?
Yes. This IPTV website is 100% free to use on any streaming device.
Ending:
In conclusion, Time4TV is a popular and reliable platform known for its extensive collection of free live TV channels spanning various categories such as news, sports, and international content. While it provides a convenient option for accessing live TV streams at no cost, it's important to note that Time4TV may have drawbacks like advertisements and potential security risks.
For a more seamless and secure streaming experience with premium content, it is advisable to explore paid IPTV subscriptions or legal streaming platforms. These options offer higher quality content and often provide additional features and benefits. It is crucial to consider the availability and legality of free streaming services in your region and ensure compliance with copyright laws and regulations.
Ultimately, whether you choose Time4TV or other alternatives, make an informed decision that aligns with your preferences and adheres to the relevant laws and regulations in your area.
related reading:
What is the use of set-top box
IPTV Explained: Is It Legal or Not
Looking for alternatives to 123Movies?
Exploring IPTV Gear: Alternative, Pros, and Cons
iviewTV Activation Code: How to Get, Find and Use