How to find your IPTV Activation Code?
iview HD IPTV subscription service uses instant delivery, the subscription code will be sent by the website automatic delivery system: Sending automatically in 5 Seconds.
When you buy our IPTV subscription plan, there are two easy ways to get your IPTV subscription code.
Go to My Account -My Order -View Order -SKU/IPTV Code (that is your subscription code)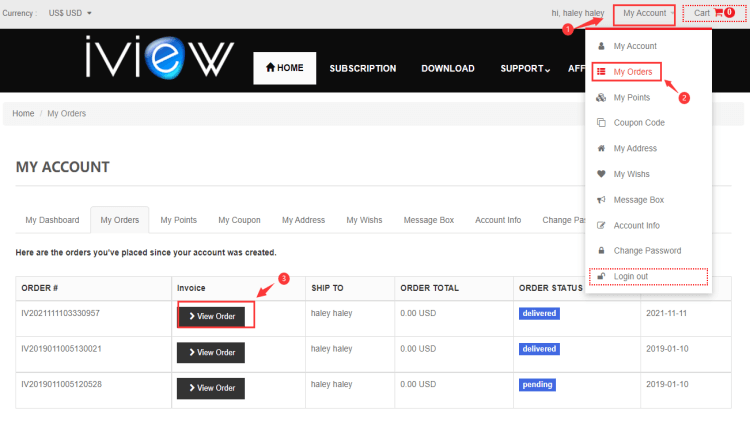 2. The iview HD subscription code will be sent to your email at once automatically when paid. If not received in 5mins, please check whether in your spam box or contact us directly: [email protected]
Other matters needing attention
1. If subscription failed to activate, please check:
(a) Whether fill in the correct code
(b) Or installed the correct version Apk.
2. IPTV Trial Codes, can not watch some valued sports channels, only paid Subscription codes can enjoy that.
Here is a text tutorial for finding IPTV activation codes
1. If you have the iviewHD IPTV account, you can do the subscription on the iview Web directly. It is with one month, 3month, 6month, and 12-month packages and 3 days of free trial test service. If you don't have the iviewHD IPTV account yet, please check the IPTV free trial tutorial for help.
2. If you have completed the payment of IPTV subscribe, our system will send the activation code to your account center. You please make sure in our web by My account-My order- order SKU/IPTV code.
3. Please pay attention to the IPTV APK versions when you download. Our iviewHD standard code is with Blue color and iviewHD Plus with Red color. And for the device you use, the APK is with STB version (Android TV, Android tv box, Firestick, Nvidia Shield) and Pad version ( for android pad and phone), APK Android method please refer to Here.
4. How to activate your IPTV subs code? In the iviewHD APP, to the Live Icon, click the setting. And then there is the frame for Active code. Please input your IPTV subs code, and then you can enjoy the Live sports, Hot TV shows, and VOD. iviewHD IPTV is the best streaming service provider for 2021.
5. If you don't want to miss any sports, you can choose our IPTV Premium package, iviewHD Plus, which is with over 200 important channels catch-up(playback), and what is more, you can the recording of these channels. For the IPTV recording function, please check it in the IPTV PVR tutorial.
I'm happy to share the information with you. Please share this link and Help other peoples.