Welcome to our comprehensive guide on enabling Unknown Sources on your Android device. We value clarity and ease, so we'll take you through the process with simple, step-by-step instructions for a hassle-free setup.
But that's not all; we'll also explore the potential risks associated with enabling this setting. Understanding the implications is vital, and we'll shed light on security concerns and potential dangers related to installing apps from unknown sources.
By the end of this guide, you'll have a thorough understanding of the entire process, enabling you to make informed decisions about whether to enable Unknown Sources on your Android device.
What are Unknown Sources?
Unknown sources refer to locations outside the Google Play Store from which you have downloaded an APK app. Google considers its Play Store as the only trusted source for installing apps on Android. However, there are instances when you may need to download apps from unknown sources. This includes apps from third-party marketplaces or apps that are currently in the beta-testing phase. Platforms like Appaloosa enable app distribution outside the Play Store and require these permissions. This method of distribution is also known as sideloading. Since the early versions of the Android operating system, users have been required to explicitly enable the installation of apps from unknown sources in the settings. If you attempt to install a downloaded APK without this setting enabled, you will receive the following prompt message:
"For your security, your phone is not allowed to install unknown apps from this source."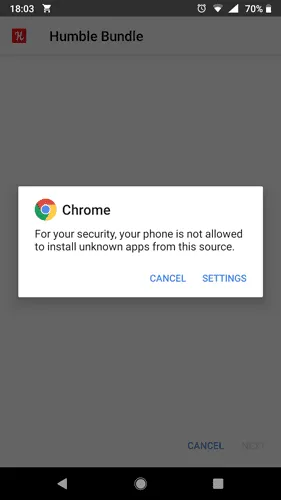 reading:
How to use the IPTV Family Package?
How to set up IPTV on your phone?
How to Turn On Unknown Sources on Android
Do you want to download an application that is not available on the Google Play Store? Fortunately, you can download it by enabling "Install Unknown Apps."However, what should you do in this case? To allow apps to be downloaded from Unknown Sources, follow the steps below:
For old Android versions (4.0, Lollipop 5.0, Marshmallow 6.0, Nougat 7.0)
Go to your Android Settings > Security.

Check the option Unknown sources.

Tap OK on the prompt message.

Select Trust.

For users with Android 9.0 and newer versions, enabling Unknown sources is essential for each app that plans to install an APK file. This means that if you have both Chrome and Firefox browsers on your device, you need to allow both of them to install apps from unknown sources.
For New Android Versions (Oreo, Pie, Android 10, 11, and 12)
Go to your Android Settings > Apps & Notifications.

Select Advanced or the three dots at the top-right corner – users might see either option depending on their device.

Select Special App Access.

Choose to Install Unknown Apps.

Select the apps you want to allow to sideload apk files.
How to Enable Unknown Sources in Android 13 – Video Tutorial
How to Turn Off Unknown Sources on Android
In Android 7 and earlier versions, the setting is referred to as Unknown sources, and it consists of a single switch that allows or disallows the installation of apps from sources other than the Google Play Store for the entire system. However, in the latest iterations of Android, this functionality is divided into individual settings known as Install unknown apps, which can be enabled or disabled on a per-app basis.
How to Disable Unknown Sources on Android 7 and Earlier Versions
Here's how to find it:
Open the system settings on your device;

Go to Security;
Scroll down to Unknown Sources and make sure it's disabled.
Note: At a glance, managing this setting may appear simpler in older versions of Android. However, from a security standpoint, it's not as straightforward. If you unintentionally enable the installation of unknown apps in Android 6 or 7, it opens the door for any app to download potentially malicious files, even apps you install in the future. This poses a significant security risk that should not be taken lightly.
How to disable Unknown Sources on Android 8 and later Versions
If you have allowed installation from unknown sources for some apps, you will need to disable it separately for each app. Here's how to do it:
Open the system settings on your device;

Choose Apps and notifications;
Select Advanced and go to Special app access;
Select Install unknown apps;
Check what is listed under each app installed on your phone. If you see Allowed, select the app in the list and disable the installation of unknown applications.
Please note, we're using the names of the settings in stock Android. Manufacturers often modify the standard Android interface, so some menu items may have different names on your phone.
How to Allow App Installations from Unknown Sources – Oppo [Android 11 – ColorOS 11]
FAQ
How do I turn off unknown sources on Android?
Open Settings.

Tap Apps & notifications > Advanced > Special app access > Install unknown apps.

Tap the name of the app you want to stop asking you to install unknown apps.

Turn off Allow from this source.
How to Install APK on Android 11?
Open your device's settings and tap "Security."

Scroll down to "Unknown sources" and toggle the switch to on.

Download the APK you want to use and open it.

Tap "Install" and wait for the process to finish.

Once the installation is finished, you can use that application for free.
How to Allow Unknown Sources on Android 11?
Go to Settings and tap Security & Location.

Tap on Unknown Sources and switch it on.

You will then get a warning message asking if you're sure you want to allow unknown sources. Tap OK.

Now you can install APK files by tapping on them and selecting Install.
Why you should not download apps from unknown sources?
Apps from unknown sources may have yet to be adequately tested for security vulnerabilities. Unfortunately, this means they might contain malware or other harmful software that could damage your device or steal your data.
Final Thoughts
Enabling "Unknown Sources" on your Android device allows you to install apps from sources outside the Google Play Store, providing flexibility. However, exercise caution due to potential security risks. Verify app source credibility, use reputable stores or websites, and disable "Unknown Sources" when not needed to ensure a secure environment. Make informed choices for a balanced approach to app installations.
related reading:
How to Watch Pay-Per-View (PPV) Events for Free
How to Install and Watch IPTV on Roku
How to fix Firestick buffering problems